To win housing square meters, a practical solution is to make a cabinet, shed or enclosure outside. Built with quality materials, is a solution of high durability and tightness. We enclosures of patios, walls of penthouses, terrace enclosures, enclosures for balconies, galleries enclosures, porch enclosures, etc..
See the following materials to manufacture its custom enclosure, according to the needs of each client.
Choose the type of PROFILES to compose the structure of the enclosure as needed:
In Ponsico aluminum frames have the following profiles, exemplary, with the series practicable and sliding the most used, from highest to lowest efficiency, technical detailing each of them. These series are the most used in recent years, belong to the manufacturer Alugom. The reference RPT means thermal break, more energy saving since it breaks the thermal transmittance of the grid.
SLIDING:
HINGED:
Include the type of FINISH in the profiles:
In Ponsico Aluminium Carpentry offer the following finishes:
Turn your door or aluminum window in classic or modern, depending on the type of finish applied to aluminum, either plain or painted wooden lacquered RAL, select the color that you like, to combine perfectly with the design of your home. Or dowry to his exterior aluminum offering excellent resistance anodized, and choose the color you like most. In Ponsico Aluminium Carpentry offer the following types of finishes:
RAL COLORS LACQUERED: You can choose from a wide range of lacquers, selecting a number of the card called "RAL" is equivalent to a particular color. The treatment of the profiles is done in plants lacquered oven under strict quality standards, these standards establish a series of technical requirements for the process of lacquered aluminum is made with all warranty. The baked coating has a 10 year warranty, although in practice many more years of life. The following shows lacquered RAL most used within a wide range:
WOOD LACQUERED: A normal layer of basecoat is applied profile and was later attached a decorative film by heat, mimicking different types of woods, getting a result virtually identical to that of natural wood. We can choose smooth lacquered wood, similar to the sanded and varnished natural wood, textured and lacquered wood, which mimics natural varnished wood without sanding, ie coarser to the touch. Decorate your home with this type of coating, will bring warmth and decoration. The baked coating has a 10 year warranty, although in practice many more years of life. The following shows some of the most common types of lacquered wood:
ANODIZEDS: Unlike the coating, anodizing is a technique that is commonly used on aluminum to generate a layer of artificial protection protective aluminum oxide, known as alumina. The layer is obtained by means of electrochemical processes, and provides greater strength and durability, making the substantially unmoved throughout the years material. It is highly recommended for homes seafront where salt or lime could damage the windows. The following shows some of the most common types of anodized:
CHOOSE A TYPE OF HANDLES:
There are different models and finishes to choose switching devices in addition to design the window or door to our liking. Depending on the chosen type of series, we can tailor a model or another. The EURO and PRIMA models are used to more conventional hinged series, with the more current than the EURO is the PRIMA model. The other models can be incorporated into doors and windows with the 16 channel (special series for more evolved hardware), such as NOBILE WOOD-ALUMINIUM series, and in our series S-76 slide. The handles are made of premium stainless steel, a quality solution to extend the life of our hardware.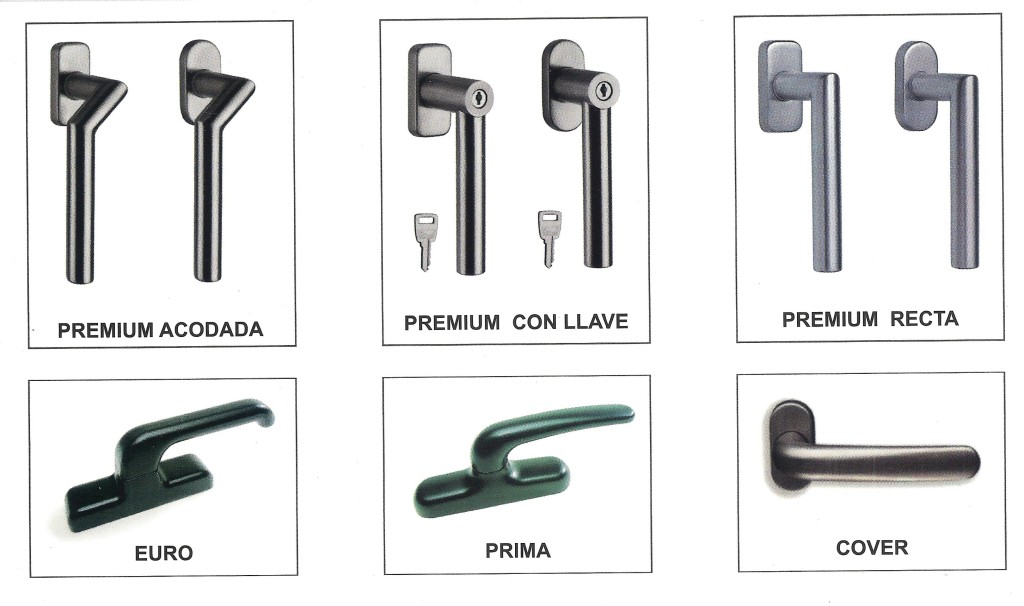 For works in which you need to use glass, we offer you our experience working Monolithic glass, laminated glass, glass tempered glass camera, all with their respective variants.
Glass types available: 1. Monolitic Glass: 
This type of glass composition is simple, made ​​of a single piece. May have different shapes and thicknesses, depending on the manufacturing process employed. Thicknesses of the letter, with the 4mm and 5mm glass best used in interior doors and windows, 10mm or more as outdoor sound attenuation, or rigideza in the structure. Below we show some of the more monolithic glass used by PONSICO SCP:
2. Laminated Glass:
This glass is characterized by joining two or more single or monolithic glass by an adhesive film of polyvinyl butyral, thus a safety glass in case of breakage can not collapse into pieces. This sheet can be of different colors and changing the final color of the glass. Can also be used a sheet acoustic attenuating any more than decibel monolithic glass of the same thickness. Below are some examples of most common laminated glass:
–ACOUSTIC GLASS: Depending on the glass used can attenuate noise 40db smoothly. –Color:According to the color of the inner sheet, we can get different shades in the bottom of the glass. –Security: The internal sheets provide safety to avoid falling glass in case of breakage.
3. Camera Glass:
Glass formed by two glass, either single or laminated, forming a chamber of air or gas (in the case of low-e), thereby breaking the thermal conductivity and in itself conveys glass. In the inner contour incorporate some sea salt to absorb the possible moisture. The factory is sealed with tar the outer contour, ensuring tightness. You can make multiple combinations with all types of glass, be taxed, smooth, laminated, tempered, etc.. The larger the inner chamber is greater thermal efficiency. To this day this type of glass, to be manufactured in bulk, there is a major increase in costs compared to single glazing. Guardian currently Sun glass, saves energy never before seen on camera glasses, with a glass, between the low emissivity, of the most efficient. Below are some examples of camera glasses most common:
-Combine 2 glasses: You can choose two simple glass to form a glass chamber to suit the client, putting the rough side inside the chamber for easy cleaning.
-Cuarterones or Stretch: It is possible to include striae cuarterones or matt or gloss glass inside the chamber.
-Low-e glass  GUARDIAN SUN: Glasses are more efficient than known at this time, highly recommendedforenergy and cost savings, a good investment for the future.
4. Tempered Glass:
Safety glass with a higher resistance than the rest of glass about its hardness. This hardness is achieved in the factory with a heat treatment, raising the temperature of the glass once built about 500 degrees using special furnaces, is then cooled slowly with air so as to achieve hardness. It is widely used in places where glass may suffer some impact sporadic, if not aggressive, it will remain intact. Widely used in shower doors, as if broken, the glass would in a thousand tiny pieces thus preventing further damage. Different thicknesses, colors and a matt can be variants of this type of glass.
Choose the type of CEILING OR ROOF to cover the enclosure as needed:
Good insulation in a roof of a house is essential to maintain low energy efficiencies control.Lo same happens in false ceilings or roofs exterior.En enclosures aluminum joinery Ponsico scp we have a wide variety of materials with which to build the roof of an enclosure, adapting ourselves to both environmental conditions and the needs of each cliente.De this way you can get a luminous ceiling, insulation, acoustic … by material empleado.Materiales as aluminum, steel, cellular polycarbonate, glass, etc., help us achieve the desired effect, please contact us and we will advise you without obligation. It is possible to include blind skylights steel roofs, in order to get natural light and clean power in a more comfortable the roof. They can be different shapes and openings, adapting to most difficult roofs. Here in the picture below, we show examples of aluminum sandwich plate consisting of two aluminum sheets thick 0.8mm/1mm each, and extruded polystyrene inside forming a block, which helps isolate more than a veneer simple, usually total 16mm but is manufactured in several steps. It is widely used in aluminum frames for cabinets, windows or structures where you want to block the passage of light while obtaining thermal and acoustic insulation. Can also be made inside false ceilings, or roofs outside with this material, as it gives more stiffness than conventional aluminum roof, preventing vibration and noise. The other image below shows an example of more skylight ceilings and roofs used for steel or aluminum with telescopic opening or manual ventilation or to cover access for maintenance or cleaning.
Enter BLINDS in the enclosure if necessary:
The blinds are a very common in southern European countries. Good protection from the sun, more and more harmful, say heat stroke caused by locking yourself out of the house, helping the summers are somewhat softer. Ultimately help protect us from the outside, whether wind, rain, hail or same cold. A security shutters offer protection, in addition to the above named. Motorized, with tape or lathe gimbal motion variants are available to us.
We manufacture aluminum shutters and PVC shutters, repairs and maintenance, selling shutter motors, etc.. Our product range is: 1.ALUMINIUM BLINDS:
This type of blinds offer a good value. Due to its aluminum construction offers strength abroad for necessary in adverse weather, composed inside rigid polyurethane foam for increased thermal efficiency. They are lighter than any other model in the market due to its lightweight aluminum extortion, different shapes and models provide the versatility to adapt to any gaps. Get informed contacting us price without any compromioso.
2.PVC BLINDS:
PVC blinds are the most economical in the market, due to its plastic construction offer one of the properties of this material that is thermal insulation. Models in various forms can be adapted to the gaps in order to reduce space. See prices by contacting us with no obligation.
3.SECURITY SHUTTERS:
The aluminum shutter security is the flagship product in SCP PONSICO blinds With considerable thickness are very desirable in replacing grills since often offer superior protection. Different models such as locking (blind that locks down once his rise preventing hand from the outside), the perforated or pierced (ideal for shop or window), etc., make this type of security shutters. They have a sewing system for the blades do not move between them, to give consistency in block. It is highly recommended to accompany an electric motor (Somfy, Wurth …), listed below, as they have considerable weight and avoid repairs indebidas.Consulte price without obligation.
4.GRADHERMETIC BLINDS:
Aluminum blinds offer an additional twist type Majorcan Lama to promote air once the shutter is lowered, adjustable and self-locking blade, you should install motorized, although with tape or cards also are feasible. For more information visit the manufacturer's blinds GRADHERMETIC.
5. MOTORS AND REMOTE CONTROLS:
Automation system for shutters, we have several manufacturers to provide competition and product quality. They can be with remote control (RTS), simple or programmable. Highly recommended for blinds with heavy weights previously mentioned type of security or for the elderly or disabled. Manufacturers offer several years of warranty other than the warranty SCP PONSICO installation With this system the shutter works smoother and because it will extend the life of this. Silent and easy installation also being able to mount curtains and blinds of a house. see price without obligation to PONSICO S.C.P.
6. EXTERNAL DRAWER SHUTTER:
In places where there are no blinds in building home, you can include external drawers as per pvc mini, the minor and the compact aluminum monoblock pvc and aluminum mixed. The latter is recommended for its construction, aluminum outside, inside pvc structure that helps reduce the noise to give more consistency and resistemcia the drawer. Motor or tape, are usually incorporated into new construction windows. This kind of shutters off on the outside so that the outer side of the shutter can be easily cleaned from the inside of the housing, moreover, increases the air chamber between the shutter and the window, helping to more efficiently isolate stay.
As can also be incorporatedAWNINGS as a measure of sun protection:
Essential element for sun protection, an awning installed correctly provides energy saving air conditioning that many of us can reach sorprender.Retiene greatly the sun's heat, providing familia.Ofrecemos wellness for a variety of awnings our customers, from the traditional vertical awning, until tops, gazebos or curtains. Changes also offer canvas tarps made ​​motors for awnings with or without remote controls, and building roofs.
The main AWNINGS MODELS are:
1.    Vertical awnings: Common model on balconies awning which as the name suggests low vertical, ie lead, can go with or without guides, in a manner of it. The most common vertical awning is the line that runs from the outside of the roof of the terrace and the lower is the possibility of being caught at the rail with arms that support multiple positions. Can be motorized with remote control or sensor. In this model, the engine should be including the ABS, which prevents breakage incase of neglect canvas, so that the motor stops when it detects exert force be subject to the railing.
2.    Invisible Arm Awnings: Model overhead balconies common in attics and low and can also be installed in flats with terrace. The peculiarity of this model is that the arms are extended horizontally from the point of departure, usually pass on a vertical wall, can regulate the fall in grades to suit the client. The arms are accompanying canvas underneath, so that seems to have no arms seen from the outside, hence its name. There are different variants of this model, of which highlights the chest model, which once collected, it protects the canvas awning and arms inside of it. We recommend this type of motorized awnings, since they exceed 3 meters in line, the effort needs to be done is considerable so that they can climb. The wind sensor is equally recommendable for terraces where the wind blows hard, so that when it detects automatically collects wind too, the light sensor operates similarly when it detects the absence or too much sun.
3.    Straight stitch Tent: Common model for window canopy and exterior balconies. This model is placed on the inside of the roof line a balcony or terrace, or on the outside of the window recess. The sheet drops to about 45 degrees to the outside, guided by two arms to the base of the awning hills and in turn to the front vertical guiding the canopy at all times in an arc. It's not as necessary to be motorized, as these arms do not exercise as hard as other models.
4.   Hoods: Canopy model which means a metal structure protects the inside front line doors and windows, giving a very aesthetic semicircular. This awning can be operated by motor or tug of war.
5.    Slidings: Canopy model which is guided horizontally by tucking guides the canvas. As the name suggests the awning runs through these guides. In many cases it is necessary to install vertical supports such goal, to hold the guide why the awning down. Very comfortable to be driven by cabestantes or motors. 6.    Gazebos / Corridors: Metal structures in the form of closed envelope at the top with a canvas awning. They can have different shapes and sizes to suit the client, giving inclination to avoid puddle rain, snow … 7.    Curtains: Awning type which is guided by the outer facade of balconies and terraces by Garrucho bearings or previously installed on the awning. Falls naturally under its own weight and is moved manually inside a housing curtain.
8.    Changes Canvas: They change all kinds of tarpaulins and awnings installed previously.
9.    Several : – Canopies: very useful for protecting canvas awnings once collected. – Fabric made ​​tarpaulins made ​​to customer taste and shape.
10. Motors, remote controls and sensors: These controllers are very practical and functional, with just a button up awnings without any effort. Being able to be with remote control or wall fixed, we can synchronize all awnings and shutters in a home with just one button. There are many variants offered by the manufacturer to operate them by SOMFY scheduling, motion sensors, light and wind. So that we can stop worrying the roof fully if it is windy, because with the proper sensor when it detects a lot of air, it detects it and automatically collects. The same goes for the light sensor to detect that extends only direct sun, and collected by evening, can regulate the sensitivity.
TYPES OF FABRICS: There are different types of tarps _ choose from, acrylic, polyester, plastic, PVC, etc..
Canvas Type micro-perforated to facilitate the passage of air and light, very aesthetic presence that highlights plastic colors and vivid touch plastic and 3 year warranty. Its weight is 400 grams per square meter, 0.45 mm thickness, the bandwidth is 267 cm, has a tensile strength of 230/230 daN / 5 cm, a tear strength of 30/25 and a resistor daN M2 fire.
Fabric composed of polyester 15% + 85% PVC. Twill Weave type wire diameter 0.40 mm, bandwidth 300/250 cm, with a weight of 605 g/m2, canvas thickness is 0.78 mm, with a degree of openness than 3% approx. Fire resistance class 1 Pb-free antibacterial finish, has a tensile strength of up to 150 daN / 5 cm, and tear strength of 10 daN / 5 cm, the thermal stability is -30 / +70 degrees.
This type of fabric is the most used and is known as the standard awning fabric whose tissue is composed of 100% dyed acrylic fiber mass with a strength of up to 135 daN / 5 cm, with a weight of 300 gr / m2 approximately. The water column is approximately 300 mm, the bandwidth is 120 cm and the finish is in fluorocarbon.
Polyester fabric made ​​1,100 dtex., With PVC coating, a finish in lacquer and fire resistance of M2. The temperature resistance of -30 / +80 degrees centigrade and has a color fastness to light 7. The weight is 600 g/m2, tensile strength of up to 250 daN / 5 cm, and tear strength of 20/25 daN, the maximum bandwidth is 300 cm.