Another of our main products are aluminum doors. In Ponsico we give solution to all kinds of doors and French windows for your home or office, from sliding doors to folding doors, pivoting doors, etc. As the slidings and hinged the most used because of its good quality price.
Our range of aluminum doors and aluminum balcony is:
1. SLIDING DOOR: Model window and door handy for places with difficult opening doors, thereby reducing not square meters of housing. At present, sliding doors and windows have achieved a great tightness comparable to other types of doors, as with firso felts incorporating a material that substantially prevents the entry of air. According to the series of sliding built, we can provide the structure of varying stiffness, all depending on the material used, series such as S-76 also include a multipoint locking for added security, besides providing the sheet with a capacity of glass above the average glass can add significant weight and thickness of both camera as glass thickness, thus multiplying the qualities of the door. In the section of sliding find doors LIFT type doors due to an additional mechanism, we got to raise the blade a few millimeters in order to rid the joints, in this case rubber to slide smoothly despite heavy glass loads. A model is applicable MATRA series, our main supplier, which falls within the upper range of sliding doors on the market, due to its robustness, capacity tightness and glass, both in weight and thickness.
2. DOOR FLOOR AREA: This model is the most popular in terms of tightness is concerned, since it thanks to its 3 rubber seals get a great seal. Easy to clean, as the surgery leaves open 180 degrees, great ventilation and step by allowing the leaves to open wide. Practicable are many varieties that can be used as needed in each case, including tilt and turn, allowing a top opening with a gesture in the handle to ventilate unoccupied space in addition to the standard opening of the practicable. Multiple series to choose according to need or cost of each case, the more robust the materials offer better performance, both thermal and acoustic.
3. FOLDING DOOR: Convenient system for sites that require a large aperture, either for passage or for ventilation, since the leaves are folded against one another such book taking up minimal space. Greenhouses, porches or gazebos can become a site inside or outside depending on the season.
4. ROCK DOORS-CONCURRENT: Such doors are like a sliding door but with different joints thereby increasing their tightness. Functional as a slider, a hermetic practicable. They incorporate a system to operate a lever on the closure, raises the blade for easy sliding and anchor it firmly in place closing, providing strength and rigidity to the structure. Hardware similar to the Tilt-turn, once closed the door by rotating handle allows an opening in the top of the sheet. As the name implies glide parallel and not in the same plane as the sliding doors.
5. PIVOT DOOR: Door or window similar to the practicable, but with the difference in the opening rotation. The open pivoting from a window centered on the axis and not in the end thereof as would be the case practicable. They offer a system adapted to different opening holes where complicates the possibility of opening. Easy to clean since it is easy to access its outer face.
6. AUTOMATIC SLIDING DOORS:
Type motorized doors and automatic door sensors using open or closed when motion is detected. Very local practices where there is a continuous flow of people. The system also allows to open manually, with a command for specific cases where you do not want to leave in auto mode. See price without obligation.
7. ALUMINIUM PANELED DOOR:
Gateway to elegant and decorative housing. It consists of a panel of high density wood inside and aluminum plate on the outside. A wooden panels they may include steel plates inside to shield them and make it more secure. There are different types of finishes for this type of door. It is common to provide this type of door locks to 3 points, which gives the door extra security.
8. SECTIONAL DOORS:
We also manufacture sectional doors, ie doors for garages or local blinds, doors which are composed of each G panels instead of glass or sheet of a piece, giving the structure greater strength, ideal for large structures without reducing its strength.
Choose your PROFILE suitable for composing the door:
In Ponsico aluminum frames have the following profiles, exemplary, with the series practicable and sliding the most used, from highest to lowest efficiency, technical detailing each of them. These series are the most used in recent years, belong to the manufacturer Alugom. The reference RPT means thermal break, more energy saving since it breaks the thermal transmittance of the grid.
SLIDING:
HINGED:
FINISH also suitable for composing your door: In Ponsico Aluminium Carpentry offer the following finishes:
Turn your door or aluminum window in classic or modern, depending on the type of finish applied to aluminum, either plain or painted wooden lacquered RAL, select the color that you like, to combine perfectly with the design of your home. Or dowry to his exterior aluminum offering excellent resistance anodized, and choose the color you like most. In Ponsico Aluminium Carpentry offer the following types of finishes:
RAL COLORS LACQUERED: You can choose from a wide range of lacquers, selecting a number of the card called "RAL" is equivalent to a particular color. The treatment of the profiles is done in plants lacquered oven under strict quality standards, these standards establish a series of technical requirements for the process of lacquered aluminum is made with all warranty. The baked coating has a 10 year warranty, although in practice many more years of life. The following shows lacquered RAL most used within a wide range:
WOOD LACQUERED: A normal layer of basecoat is applied profile and was later attached a decorative film by heat, mimicking different types of woods, getting a result virtually identical to that of natural wood. We can choose smooth lacquered wood, similar to the sanded and varnished natural wood, textured and lacquered wood, which mimics natural varnished wood without sanding, ie coarser to the touch. Decorate your home with this type of coating, will bring warmth and decoration. The baked coating has a 10 year warranty, although in practice many more years of life. The following shows some of the most common types of lacquered wood:
ANODIZEDS: Unlike the coating, anodizing is a technique that is commonly used on aluminum to generate a layer of artificial protection protective aluminum oxide, known as alumina. The layer is obtained by means of electrochemical processes, and provides greater strength and durability, making the substantially unmoved throughout the years material. It is highly recommended for homes seafront where salt or lime could damage the windows. The following shows some of the most common types of anodized:
CHOOSE A TYPE OF HANDLES:
There are different models and finishes to choose switching devices in addition to design the window or door to our liking. Depending on the chosen type of series, we can tailor a model or another. The EURO and PRIMA models are used to more conventional hinged series, with the more current than the EURO is the PRIMA model. The other models can be incorporated into doors and windows with the 16 channel (special series for more evolved hardware), such as NOBILE WOOD-ALUMINIUM series, and in our series S-76 slide. The handles are made of premium stainless steel, a quality solution to extend the life of our hardware.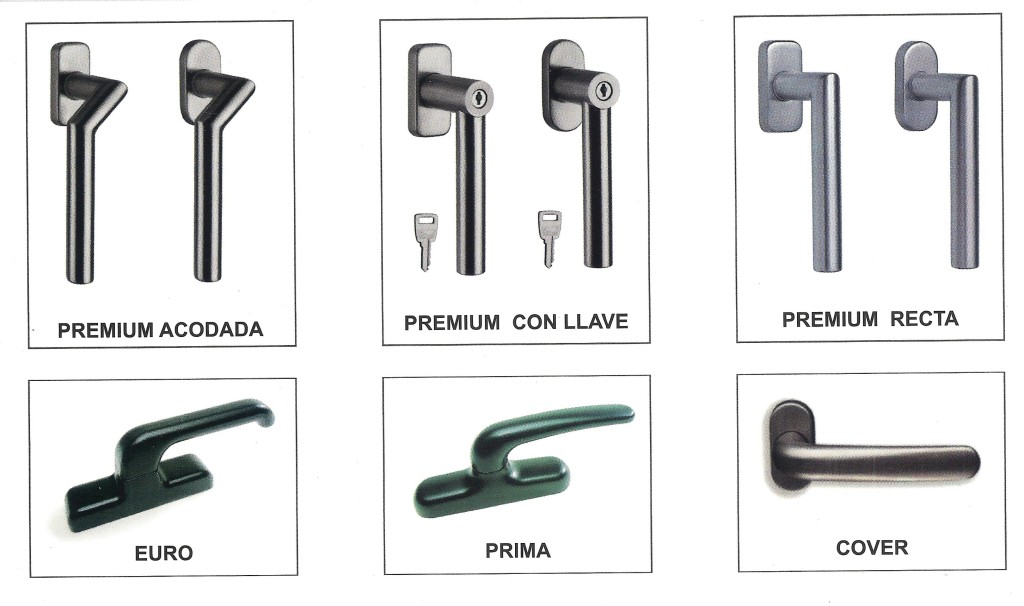 Also choose to compose your door GLASS:
For works in which you need to use glass, we offer you our experience working monolithic glass, laminated glass, tempered glass and camera, all with their respective variants.
Glasses Types available:
1. Monolithic Glass: This type of glass composition is simple, manufactured in a single piece. Can have different shapes and thicknesses, depending on the manufacturing process employed. Thicknesses on demand, with the glass 4mm and 5mm best used in interior doors and windows, as 10mm or more for external sound attenuation, or rigideza in the structure. Below we show some of the more monolithic glass used by PONSICO SCP:
2. Laminated Glass:
This type of glass is characterized by joining two or more single or monolithic glass sheet using a polyvinyl butyral adhesive, thereby producing a safety glass in case of breakage can not collapse into pieces. This sheet may be of different color shades thus modifying end glass. A sheet can also be used acoustic attenuating the decibel some monolithic glass of the same thickness. Below are some examples of more common laminated glass:
–ACOUSTIC GLASS: Depending on the glass used can reduce noise at 40db without problems.
–Color: Depending on the color of the inner sheet, we can get different shades in the bottom of the glass.
–Security: The inner blades offer safety to avoid falling glass in case of breakage.
3. Camera Glass:
Glass formed by two glass, either single or laminated, forming a chamber therein of air or gas (in the case of low emission), thus breaking the thermal conductivity already transmitted if the glass. In the inner contour incorporate some sea salt to absorb any residual moisture. Is factory sealed with tar the outer contour, ensuring tightness. You can make multiple combinations with all kinds of glass, be taxed, smooth, laminated, tempered, etc. The greater the greater its inner chamber thermal efficiency. To this day this type of glass to be manufactured in bulk, not a big increase in costs compared to single glazing. Currently the Sun Guardian Glass, saves energy never before seen in the glass chamber, with a glass, among low emissivity, of the most efficient. Below are some examples of most common camera glasses:
–Combine 2 glasses: You can choose two simple glass to form a glass chamber to suit the client, putting the rough side inside the chamber for easy cleaning.
-Quarters or ribs: It is possible to include paneled or matte or gloss streaks inside the glass chamber.
-Low emission GUARDIAN SUN:Glasses are more efficient than known at this time, highly recommended for energy and cost savings, a good investment for the future.
4. Tempered Glass:
Safety glass with a higher resistance than the rest of glass about its hardness. This hardness is achieved in a heat treatment plant, raising the temperature of the glass once constructed about 500 degrees using special furnaces, is then cooled slowly with air to thereby achieve hardness. It is widely used in places where glass may suffer some impact sporadic, if not aggressive, it will remain intact. Widely used in shower doors, as if broken, the glass would be in a thousand tiny pieces thus preventing further damage. Different thicknesses, colors and dull areas may be variants of this type of glass.
Refer to other sections of this website to compose the door using materials such as: BLINDS, AWNINGS or BARS among others … CONTACT us for any additional information, we will respond without compromise.