They are called safety glass or safe glass, do not expel sharp splinters, in case of breakage.
That's what he wants in case of rupture doesn't pose a potential danger of causing injuries or serious injuries to people.
We generally associate safety as a synonym for protection, which relates directly to glasses of which their properties are difficult to pass on by impacts, whether objects or people.
Types of safety glass
There are several types of safety glass, but the most devised by architects and used in construction are as follows.
Laminated glass
Laminated glass consists of the bonding of two or more glasses (sheets) through the use of a special glue called butyral polyvinyl or PVB, a plastic material with excellent qualities of adhesion, elasticity, transparency and resistance. This gives the window an improvement in sound insulation and also in safety. The latter is because if for any reason the glass breaks, the pieces of glass do not fall off and are scattered on the ground, but remain glued to the sturdy PVB glue (as is the case with the car moons). This provides protection against possible intruders in our home and also prevents domestic accidents, as there is no risk of cutting or nailing a piece of glass.
Main features of laminated glass
Penetration resistance.-This is due to the butiral foil. This is without a doubt its most noteworthy feature, hence it is recommended its installation for uses with special requirements of safety and protection of people and goods.
Fragmentation.-In case of breakage, the fragments are attached to the butyral sheet.
Acoustic insulation.-This type of glass improves the acoustic attenuation of the house thanks to its composition, achieving greater comfort for your home and permanently banishing noises.
Shock resistance.-Laminated glass is endowed with high resistance thanks to the elasticity of PVB glue, which achieves greater protection against impacts. In the face of a blow to the laminated glass, the butyral polyvinyl absorbs the energy of the impact and thanks to its elasticity the adhesion to the glass is maintained.
Solar control.-This type of glass is not incompatible with the protection of ultraviolet radiation. You can add this property to filter UV rays.
It is possible to make different combinations with this type of glass, in the laminar glass you can have different types of thickness 3+3, 4+4, 5+5 etc., also different types of sheets 4+4+6, 6+4+6, 6+6+4+6 etc., can also be combined with an double glazing, thus increasing acoustic and thermal insulation.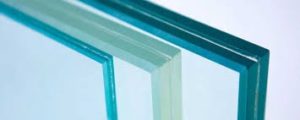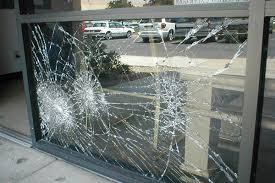 Tempered glass
Tempering is a glass that gradually heats up to a temperature between 575 and 635 Celsius degrees and then cools quickly with air. In this way it is possible to ensure that the glass is exposed on its surface to compression stresses and inside it at tensile pressures, giving it greater structural resistance and impact than the untreated glass, having the additional advantage that in case of breakage is fragmented into small harmless pieces (so it is considered one of the types of safety glass).
Uses and applications
In general, tempered glass is used in all applications that require a strong and safe glass, for example on glass doors and tables, bathroom screens or screen protectors for smartphones. The applications are innumerable.
Thermal resistance is used for glass subjected to high temperatures. For example, in oven doors and containers.
In cars tempered glass is widely used in rear moons and windows. Laminated glass is used in the front moons, which includes tempered glass but with plastic sheets between them that adhere to the fragments in case of breakage preventing them from being projected.
Despite being an excellent choice for normal glass in terms of safety, acrylic has displaced tempered glass in many applications, mainly in those where high temperature is not a major factor.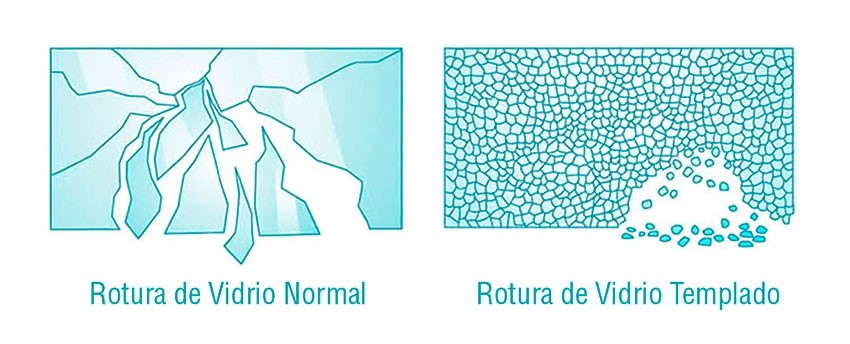 Armed glass
The armed glass is that glass that is obtained by the casting process and is embedded inside a metal mesh in the form of a grid, so that, if broken, the pieces of glass are attached to the wire preventing its fall and that these can cause injury. This makes it suitable for risky areas and where additional security is needed, although it is not an anti-theft glass.